Second Chances Garage
240-724-1919
|
http://secondchancesgarage.org/rally/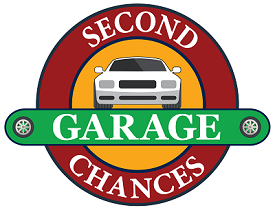 Changing oil, changing lives: Second Chances Garage helps needy get and keep cars
How would you get to a job if you couldn't afford a car? Taxi and Uber rides can be expensive, and bus routes may not be frequent or nearby. Even friends offering rides can be inconsistent. In providing reduced-cost vehicles and repairs since 2010, Second Chances Garage is trying to fill the void, so that the financially challenged can take care of their families and enjoy the world around them.
Rick Trawick, who is the founder of Second Chances, often witnesses the transformative power of an affordable vehicle. He told the story of one recipient who used his car to work in sports radio at a Thurmont station. The work experience he gained got him a job at a sports radio station in New York. Trawick recalled another program car recipient who no longer needed public transportation. "She was spending two hours in the morning and two hours at night on the bus to get from work, to where her child was in daycare and back home, just because of the connection times."
Each program car refurbished by Second Chances can change the trajectory of a person's life, but this requires community support.
"That is the name of the game for our business," Trawick said. "Car donations drive it because not every car that we get we can use for our program. Some of the cars that we get, we're able to repair and put in our program fleet. Some of the cars, we refurbish and sell on our lot here because they have higher miles, but they're still good cars." And other cars that can't get back on the road can be recycled for parts.
Second Chances Chief Operating Officer Glenn Zior finds that the majority of people who donate cars want to simply help the Frederick community, but are tax benefits as well. "If we get [a donated vehicle] and recycle it for parts or sell it for $500 they get to claim a $500 donation on their taxes. If we take it and we sell it for over $500, they get to claim whatever we sell it for on their taxes. If we get a car and it becomes a program vehicle … the people who donate it get to write off the full [Kelley] Blue Book [Private Party] value of the car. Which could be substantial." Those who donate cars used for Second Chances' program can list their vehicle in very good condition for tax breaks.
The stories of donated cars vary. "It's as many as you can think of. It's my grandmother's car, and she doesn't drive anymore, and you can have the car to I blew the engine, and I don't know what to do with it so you can take it," Zior laughed. "Anything in between."
To develop this ecosystem of refurbishing program cars, Second Chances has partnerships with Dynamic Automotive to handle complex repairs and Interstate Batteries for their supplies. Second Chances thoroughly drives the car to ensure its safety and also provides a Maryland title, tag and registration that is covered by the $778 program car cost. All of this requires money, time and community outreach.
Upcoming Events
There were no results found.