CA: Drive Toward a Cure — California Adventure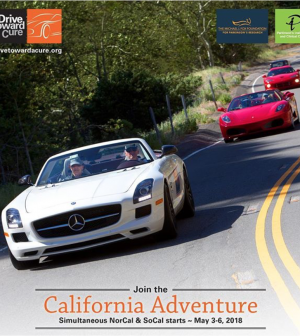 The third Drive Toward a Cure event is set to raise the bar as the non-profit charitable organization opens registration for its third multi-day luxury drive. After raising more than $50,000 for Parkinson's Disease research and patient care during the 2017 calendar year, the program returns to California in the spring of 2018. The 2nd annual "California Adventure" will be held May 3-6, 2018, with simultaneous drives from the Monterey region and Southern California coming together at the famed Alisal Guest Ranch and Resort in Santa Barbara wine country.
The 2018 charitable program includes a four-day/three-night gathering that blends cars and camaraderie within a bucolic resort setting, known for more than 70 years of luxurious relaxation, working ranch experiences, and a scenic retreat atmosphere that has been enjoyed by celebrities, families and those seeking a bit of peaceful nostalgia within nature's best environment.
Two successful events during 2017 have earned rave reviews from past participants and media, all hoping to partake again.  With an anticipated entry list of 40 vehicles ranging from vintage and luxury/exotics to daily drivers, Drive Toward a Cure will return to its California beginnings to create an all-new driving experience along some of the best back roads in the nation, complemented by stops at private motoring collections rarely seen by the public.
According to Deb Pollack, founder of Drive Toward a Cure, the organization has already established a reputation for creating events that are considered so much more than just a rally. "We wanted to build a meaningful movement that included passionate enthusiasts taking on a journey of roads less traveled — yet contributing to a cause for which we hope a cure will eventually be found. Our goal is to build awareness and help fund the research that will find that cure faster. Our grants to the Parkinson's Institute and Clinical Center in Sunnyvale, where research and patient care go hand-in-hand, have the added benefit of supporting those living with Parkinson's right now."
Ms. Pollack has been involved in teaming cars and camaraderie to support Parkinson's for the past decade, after losing her mother to its challenges in 2006. "Teaming the passion of spirited driving with an important cause, among an audience of car aficionados, seemed like a perfect way to spread our message through a very involved community," said Pollack. "My personal vision was to create a groundswell within the automotive family – a group that is social and emotional when it comes to cars – and engage them in exciting programs in which they'd enjoy partaking – doing what car lovers relish the most and raising funds at the same time."
The 2018 California Adventure will explore some of the State's most beautiful topography and will include a timed "special stage" driving test. Though driving is at the heart of the program, plenty of time will be set aside to enjoy equal pleasures within the Alisal's unique ranch setting and resort amenities. Participants will even have a choice of a morning hayride or horseback riding to one of the outdoor morning gatherings.
For more information and to register: www.drivetowardacure.org/california-adventure-2018.
#comeroadrally