USA: MINI Takes the States 10th Annual
July 9, 2016

-

July 23, 2016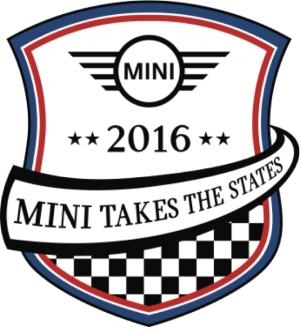 Start your engines at Road Atlanta to kick off the 10th anniversary of MINI TAKES THE STATES. Explore the backroads, curves and hidden gems of America from July 9 – July 23, 2016 crossing the finish line at the exclusive Thermal Club outside Palm Springs, California.
Whether you join for just a day or go the distance, add motoring across America with a thousand other MINIs to your list of goals for 2016.
TRACK TO TRACK — 2016
MINI TAKES THE STATES 2016 is an opportunity for passionate MINI owners like yourself to rally together and form new friendships while exploring America.
We convene at Road Atlanta road course in the rolling hills of northeast Georgia on July 9. The two-week odyssey concludes on July 23 at the Thermal Club motorsports complex in Palm Springs, CA. Along the way, you will discover some of our country's most captivating scenery while hugging the curves of two-lane byways. From track to track, rediscover that once-forgotten relationship between you, your MINI and America's open road.
REGISTRATION Info —
How do I register?
Registration will open through MINITAKESTHESTATES.com in March, 2016.
Is there a fee to participate in the MTTS rally?
While we'd love to have everyone rally the full route, we realize that some of you can only join for a few stops so there are two payment tiers based on length of participation in MTTS. The fee is per person and non-refundable. If you are unsure how long you can participate, we encourage you to purchase the Multi-City Ticket so you are assured of participation in as many MTTS events as you wish.
Ticket prices:
$40 Single City Ticket (includes evening and next-day morning event in one city)
$75 Multi City Ticket (includes as many MTTS events as you can attend!)
Children 12 and under are free.
What is included for the fee?
Paid registration will include a special MTTS goodie bag and access to MTTS events. MTTS participants should expect to cover all supplementary costs associated with their participation in the program. This includes items such as hotels, gas, food and other incidentals.
A portion of the proceeds from each registration fee will be donated to the official MTTS charity.
Related Events